For the month of September, we are offering your first private lesson for only  $40!  Availability is limited, so book it now by emailing us. Lessons will be booked at a first come, first served basis.
Unlike a group class, in a private lesson you get the undivided attention of your instructor. These lessons offer the privacy that some prefer and are typically more productive as it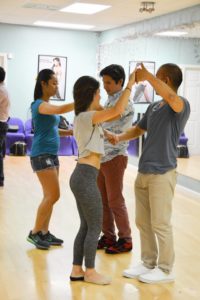 exclusively focuses on your needs. We can specialize the lesson from a beginner taking your first steps, to an advanced dancer looking to take your skill to the next level. Aside from the above, other advantages include:
Location flexibility: Lessons can be taught in our studio or a location of your choosing
Time flexibility: Lessons can be scheduled around your availability
Subject flexibility: You select the dance and details you want to work on
Focused skill improvement such as:

Leading / Following
Footwork
Timing and musical understanding
Turning and spinning
Body movement
Isolation techniques
Hip and shoulder movement
Styling
Private lessons may be purchased on a lesson-by-lesson basis, or in packages. Give us a try… for inquiries, email schoolofsalsahawaii@gmail.com.